I love the NBA draft. I love it for teams loading up on new talent, the draft day trades, the speculation… But I really love the draft suits.
The NBA is famous for having guys show up in ridiculous outfits at the draft. From Samaki Walker looking like the world's worst Bond villain, to Drew Gooden's no-button poncho, you never know what to expect. Even though things have gotten a lot tamer of the last few years, with agents and handlers making sure the players don't look too ridiculous, mistakes still happen.
That's why I'm here, to walk you through the draft suit triumphs and mistakes.
No. 1 Pick: Anthony Davis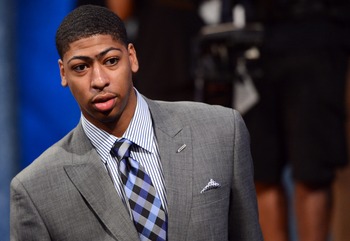 Jerry Lai / US PRESSWIRE
Anthony Davis knew he had to look good tonight because he'd probably get more camera time than anyone, and he delivered.
The former Wildcats star paid tribute to his college team with Kentucky blue on his shirt and tie to go along with his sharp grey suit that's tailored perfectly to a guy with one of the most unusual frames in the draft.
I'm digging the light colors on him, nice and subtle to go along with the enormous and flashy diamond earrings and watch he has going on.
No. 2 Pick: Michael Kidd-Gilchrist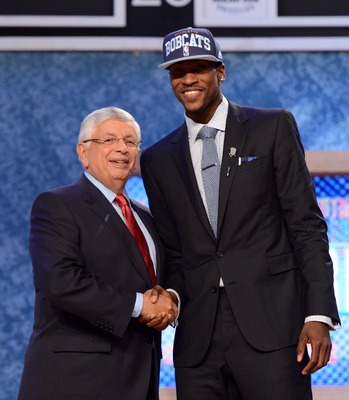 Jerry Lai / US PRESSWIRE
Nobody loves Michael Kidd-Gilchrist more than I do, believe me. But I gotta be honest when it comes to his suit tonight. I'm not a fan.
First of all, he's got way too much going on. He's got a tie clip and like three other clips somewhere on his suit. What is this, a Bennigan's?
And the brown shoes with a suit that dark? C'mon man. The suit is nice enough, but the rest of MKG's outfit takes away from it.
Grade: C
No. 3 Pick: Bradley Beal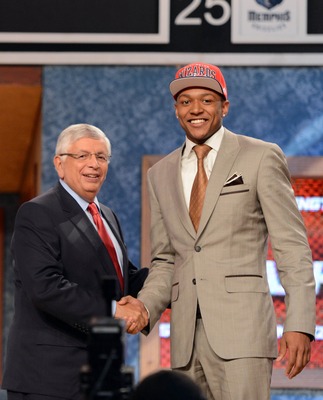 Jerry Lai / US PRESSWIRE
There's nothing wrong with Bradley Beal's suit, but there's nothing really good about it either. It's very tan and very plain. He's repping Florida with the orange tie, but that's really the only thing notable going on.
I'm also not really sure where his pocket square is coming from. It doesn't seem to go with anything.
Grade: B-